The Far North Coast of NSW is one of the most popular destinations for road trippers. It's also a popular base for visitors to bounce into the hills and hinterland beyond. With spectacular scenery; ancient rainforests; breathtaking waterfalls; quaint, artistic villages; award-winning cafes and restaurants; renowned galleries and artists; and so much more, it can be difficult to fit everything into the one trip. We take a look at the 5 most popular road trips from Ballina.
A Surfer's Paradise – World Class Surf Breaks on the Far North Coast of NSW
Ballina's main surfing beaches are North Wall and South Wall – a favourite of Australian surfing legend Mark Occhilupo. Ten minutes north from Ballina is Lennox Head where you'll discover the world class surf break known as The Point.
Only a 30-minute drive from Ballina, Byron Bay has more surf schools than any other location in Australia and for good reason. The Pass, Tallows, Wategos and Belongil Beaches… are all extremely popular beaches in Byron Bay for not only beginners but seasoned professionals and everyone in between. A surf in Byron Bay is almost mandatory.
If you'd prefer to keep away from the crowds, head south. From Ballina you're only also about an hour's drive from Yamba and it's gorgeous surrounds including the National Surfing Reserve Angourie Point that offers a right-hand point break to excite the more experienced surfer.
Really though, when you're based at Grandview Apartments Ballina you can just jump in the car and drive the coast road north or south and just stop wherever you find a beach you like. There are so many stretches of accessible beaches along the Far North Coast – it really is a surfer's paradise.
The Hinterland Way
Just ten minutes behind the wheel from Ballina and you'll be driving past macadamia farms and coffee plantations and noticing roadside stalls offering fresh, lush produce and home-made jams that you'll go back to find again. There are so many gorgeous little hinterland towns to discover, but one of the most popular routes is via Newrybar and it's Harvest Café and Deli for a coffee before heading into Bangalow to wander the coastal chic fashion and home wares stores. Next, meander up to Federal where the Federal Doma Café offers delicious Japanese food and is popular spot among visitors and locals alike.
If you're still happy for some more driving, from Federal you're only a few bends away from some of the area's most famous nature walks and waterfalls including Minyon Falls, Whian Whian and Rocky Creek Dam. Spending the afternoon wandering through the tropical rainforests and enjoying some of your food wares purchased earlier in the day can be a magical way to while away the afternoon.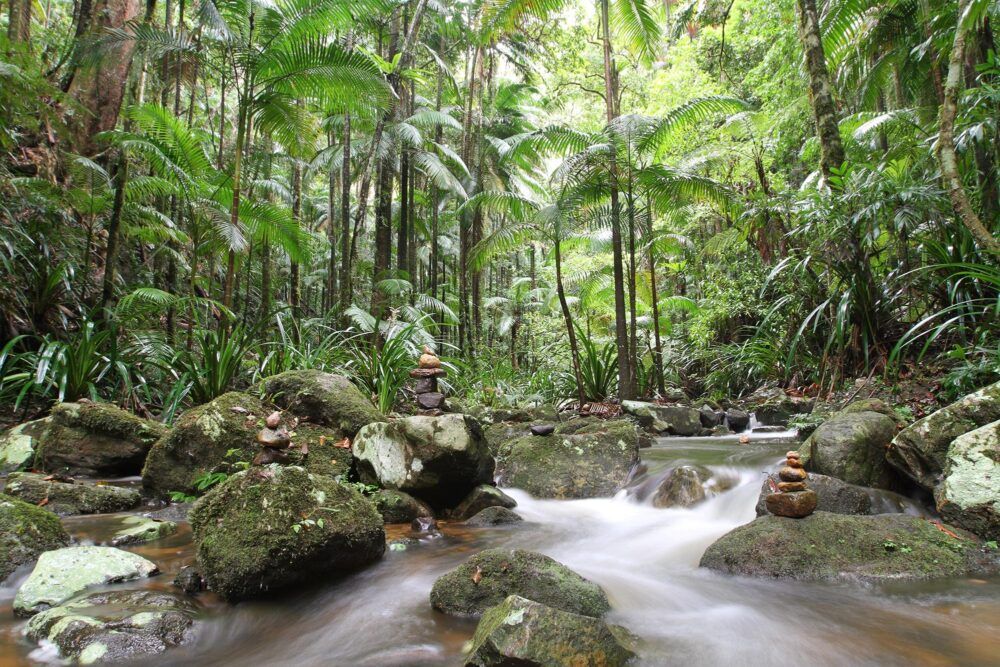 Hippies, Markets and Magic
One of the attractions of the far north coast is the relaxed vibe and lifestyle. A huge part of this is the markets. There are markets on just about every day of the week and weekend somewhere in the Ballina and Byron Shires. To see a comprehensive list of them see our Activities and Attractions page.
If you're looking to immerse yourself in the alternative approach to life on the far north coast, you'll love the Channon Craft Market where you can wander the incense-smelling stalls and the ethos of "Make It, Bake It, Grow It" still rings true. From here you can continue on via the back roads or through Lismore to Nimbin, renowned around the world for its "greener" pastures. Nimbin's eclectic shops often overshadow the fact that the rainforest and surrounds of Nimbin are absolutely stunning. You can also combine this day visit to some of the waterfalls already mentioned above – once you're in the hills, most roads lead to somewhere!
Cruise the Coast
Ballina is just a hop, skip and a jump from the many coastal towns dotted all along the Far North Coast up to the Queensland border. Heading north from Grandview Apartments in Ballina is Lennox Head. Known for its awesome surfing and commonly described as "Byron 20 years ago", Lennox has plenty of local cafes and shops to visit. Make sure you stop in on Pat Morton Lookout which is renowned for whale watching, and don't miss Lake Ainsworth – the tea tree lake that's buzzing with families in the summertime.
Heading north from Lennox Head is Byron Bay. Everyone knows Byron Bay, and a visit to this area is almost not complete without a walk up to the Byron lighthouse, or a wander up to main beach to watch and listen to the drummers in the park or enjoy a beverage at the Beach Hotel.
Once you've finished with the overpriced beers in Byron, head back out to the highway, stop in at The Farm on your way, and a 15 minute drive will get you to Brunswick Heads. A beautiful little town set on the Brunswick River, Brunswick Heads is well worth a visit. The Brunswick Pub is overlooking the river is the perfect place to lunch.
What is there to do in Ballina?
There are so many things to do in Ballina, you might never want to leave. From the expansive walking paths that run all the way up to Lennox Head (a spectacular day trip in itself), to the 25kms of cycle tracks, family-friendly beaches and rockpools, to the river cruises and whale watching with Out of the Blue Adventures, you'll have your time cut out for you. Grandview Apartments are a short walk to one of the best vantage points for whale watching – that's if you even leave your apartment where you'll have even better views from your balcony.
Check out Grandview Apartment's accommodation options to see how we can accommodate you. We specialise in accommodation for large family groups, family reunion accommodation, large family groups, sports team accommodation and as an alternative to a holiday house for large groups. Perfect for your next group gathering!
To learn more about the local area and what's on head to our Location, Events and Attractions and Events pages. If you're staying with us and would like more information on any of the road trips mentioned in our 5 Most Popular Road Trips From Ballina, let us know – we'll be only too happy to point you in the right direction!