Grandview Apartments offer luxury Ballina accommodation apartments in one of the best locations in Ballina. Just a short walk from Ballina's most popular family and surfing beaches, Grandview Apartments offer a more spacious option at hugely competitive rates.
Far North Coast Holiday Accommodation
Ballina is one of the most popular destinations on the Far North Coast of NSW. Only a 5-minute drive to the Ballina Byron Gateway Airport, 30 minutes to Byron Bay and 1 ½ hours to the Gold Coast. Ballina is the perfect base to explore the many coastal and hinterland towns that the area is famous for.
With white, sandy beaches, rivers, coastal boardwalks and eclectic shopping but without the hectic chaos that is sometimes Byron Bay, Ballina is a more relaxing, family-friendly destination for your far north coast holiday. Many of our guests prefer the slower pace, the easier parking, the cheaper accommodation and shopping options and the vast array of dining and activities options that Ballina has to offer.
For your perfect Ballina accommodation, Grandview Apartments are an exciting option. Shelly Beach and Lighthouse Beach are a two-minute walk away. Well known for their surfing breaks, both beaches are patrolled in the high seasons and offer some gorgeous rock pools perfect for exploring and swimming for the little ones. If you're looking for corporate accommodation near Lismore than you're in luck! Grandview Apartments is conveniently located a short distance from the heart of the Northern Rivers.
Holiday House for Large Groups
Grandview Apartments also cater for larger groups. Our 1, 2, 3 bedroom and Penthouse apartments give holiday makers options when it comes to Ballina holiday accommodation for groups whether it be family reunion accommodation, corporate accommodation or business team building, sports teams accommodation or just a larger group of friends meeting for someone's birthday. With all 2, 3 and Penthouse apartments offering 2 bathrooms, open plan layouts with full size kitchens and amenities, it makes it easy to accommodate everyone.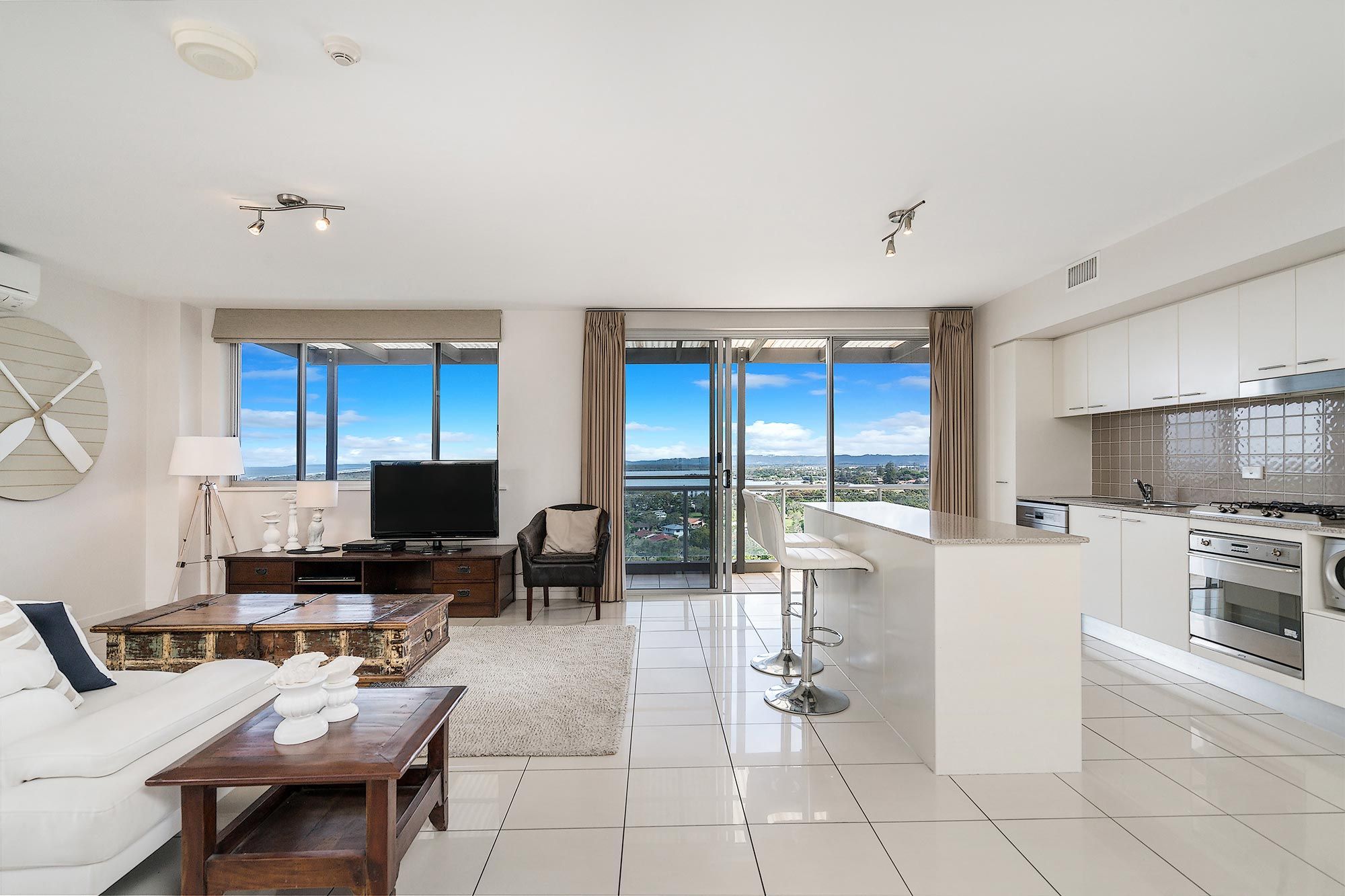 Best Views in Ballina
Grandview Apartments boast spectacular views. With the Pacific Ocean on one side and Richmond River and the south coast on the other, most of our apartments have views. Each apartment has a balcony, deck or courtyard and while the higher floors definitely have more impressive views, even the lower apartments look onto our tropical gardens, and our one-bedroom apartments have courtyards and outdoor settings surrounded by lush foliage. Then of course we have our top floor Penthouse. Featuring some of the best views in Ballina, they have to be seen to be believed.
So, if you're looking for the best Ballina holiday accommodation, you've found it with Grandview Apartments!
Check out our various apartment options.